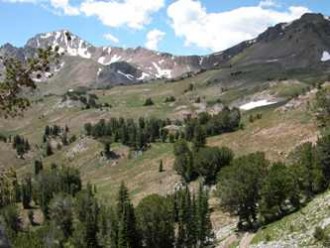 We are located in beautiful Montana. We spend our time in the saddle riding the Gallatin National Forest, the Lee Metcalf Wilderness, Yellowstone National Park, Bob Marshall Wilderness, and the Pintler Wilderness to name a few. This photo is looking into the Hillgard Basin as we started our decent.
I would like to introduce myself, I'am Genie Ladd, founder of thehorsegal.com. Whether you are new to the world of horses, or have had them your entire life, I am here to provide you quality information on horses, training, current topics, product reviews and more.
My goal is to be a constant source for you to find answers, find training tips, as well as, articles on a wide varity of horse topics. I will also provide you with information on "hot" deals, or great opportunities.
As with most websites, it is a work in progress and a labor of love! Enjoy the site and I look forward to a long relationship with you!
If you have any questions or comments please send email to: gl@thehorsegal.com
Look forward to hearing from you.
Genie
The Horse Gal