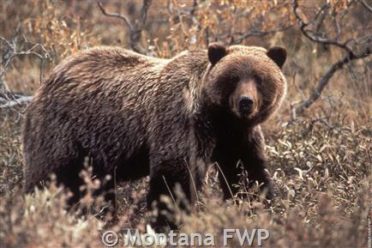 If you spend time in the backcountry chances are you will have an encounter with a bear.  That is, if you are in "bear country", which I am.  Living in Montana, bears are a fact-of-life.  I love seeing them, preferably through my binoculars, but there have been several times that I have been up-close and personal with bears.
I admit, I have done my research on bears.  I also want to admit that all the reading in the world did not prepare me for one particular experience.  I was guiding a group of people who were going to spend a week in the Lee Metcalf Wilderness.  We left the trailhead around 11:00 a.m. for the 6-hour ride to camp.  I was riding a young horse and was leading three mules packed with the gear.  Behind the mules were the six guests, on very seasoned horses, and talking fairly loudly.  It was July, the creek to our left was running high and loud which, I believe, muted our approach on the trail.  As we came around a corner I was suddenly face to face with a mama grizzly and her twin cubs.  Stopping dead in our tracks, the grizzly and I were eyeing each other.  She then put her cubs at the base of a tree about 20 feet away.  My relief quickly evaporated when the mama came at me – FAST.  I was getting ready to sacrifice the mules by spinning my horse to the right and pulling the mules forward where they would be between me and the grizzly.  Before I did that she stopped 10′ from me, stood on her legs and proceeded to swipe, snarl, and spit while looking me directly in the eyes. This went on for an hour – ok, it only seemed like an hour – in reality it was about 15 – 20 seconds.  She then dropped to all fours and went back to her cubs where she sent them up the tree.  She then turned around and came at me again.  In a matter of seconds I was trying to recall facts on grizzly false charging a second time…but could not recall anything…while getting ready to make my move. She came to the same spot and repeated her swiping, snarling, and spitting.  Again, it was 20 seconds.  She then went to the base of the tree and sat down.  She locked eyes with me and I moved on down the trail.  When I was sure she was going to stay put, I changed my focus to the trail ahead.  The guest were dead silent behind me.  When I thought we were far enough away I finally turned to face my guests.  It was a white-knuckle moment!  They couldn't believe what had just happened.  Once we arrived at our camp, dropped gear, unsaddled, hobbled and picketed the horses we gathered around the camp to relive what had happened.  They all wanted to know how often that had happened to me.  Truthfully, I had seen lots of bears – from a distance – never this close, and never had I been false charged TWICE.  Bears typically hear you coming and go the other direction.  I feel blessed that this encounter ended without anyone getting hurt by the bear or anyone being bucked off their horse.  I slept with one eye open that entire week!
This event opened a conversation at home though.  My husband felt I should have a gun with me at all times.  Of course, I could see nothing good coming of that senario.  I had visions of not having enough hands…my left hand had the lead rope to the mules, my right hand had control of my horse…dropping my reins to un-holster a gun while on a moving horse, and shooting, would, no doubt, cause a rodeo with the end result of me becoming dinner for the bears.  Not the solution for me.
I ride alone quite a bit in the backcountry, in fact, the next day I had to ride to the trailhead, while ponying a horse, meeting an additional guest, and a long ride back to camp.  I love riding alone but I am not going to lie, I was a little tense on this particular day.  The false charge was too fresh on my mind.  I never did see that grizzly and her cubs again that summer, but I did change one thing – I never again went into the backcountry without bear spray; one in my horn bag, and one can on my belt.  My husband and son also each carry bear spray now when riding, hiking, or fishing in the backcountry.
This backcountry trip had a good outcome – but honestly, there is not a good reason to not carry bear spray when riding or hiking in bear country.
Bear spray – should you carry?  You betcha!